by Kent Otto · December 6, 2022 2:43 pm
Hangout Music Festival organizers have revealed the artist lineup for the 2023 event, set for May 19-21 in Gulf Shores, Ala.
Electronic artists include Calvin Harris, Flume, Skrillex, Alison Wonderland, Big Wild, Gryffin, John Summit, Rezz, Said The Sky, Dr. Fresch, A Hundred Drums, Aluna, Elohim, Honeyluv, Ranger Trucco, and more.
Other headliners include Red Hot Chili Peppers, SZA, Paramore, Lil NasX, the Kid Laroi, Rainbow Kitten Surprise, and many more.
Hangout Music Festival tickets go on sale at 10 a.m. CT this Fri., Dec. 9. Payment plans and lodging packages will be available.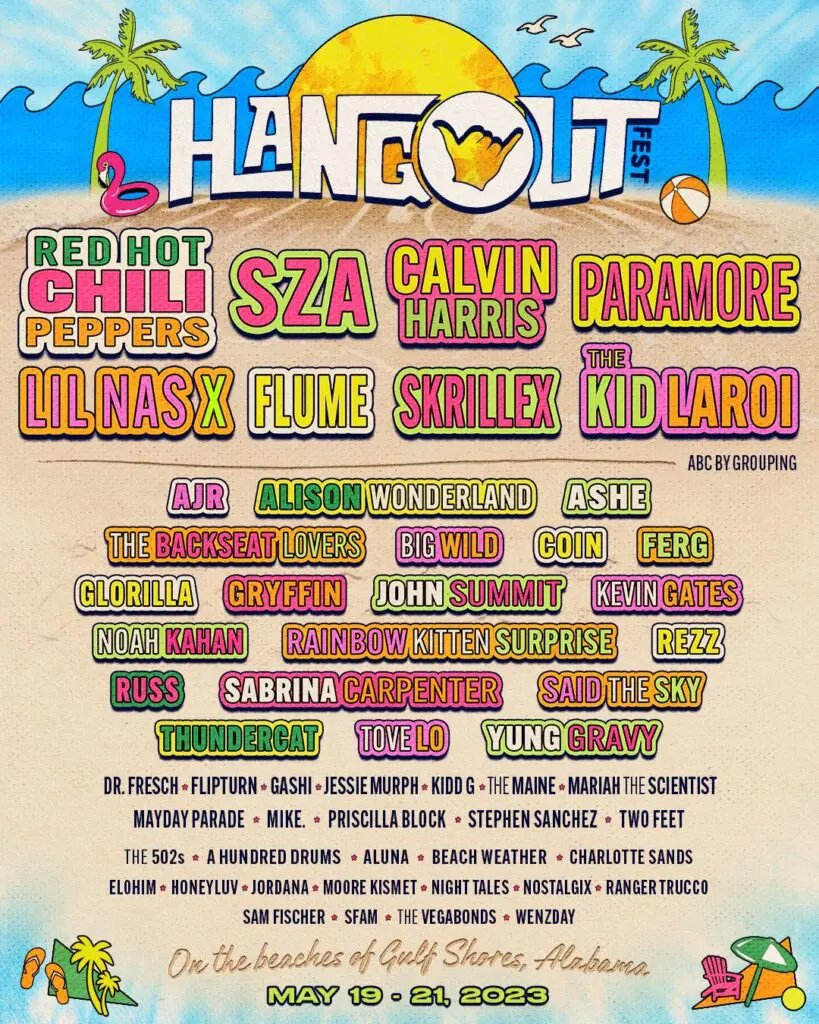 by Kent Otto · Published April 2, 2012 · Last modified May 6, 2012

by Kent Otto · Published April 10, 2012

by Kent Otto · Published March 28, 2012 · Last modified May 5, 2012
Tags: A Hundred DrumsAlison WonderlandAlunaBig WildCalvin Harrisdr. freschElohimFlumeGryffinHangout Music FestivalHoneyluvJohn SummitRanger TruccoRezzsaid the skyskrillex
Kent Otto
Kent is founder and editor-in-chief. He's always had a love and passion for music of all types, but didn't discover the music festival scene and community until moving to Southern California during his early post-college years. He returned to his roots in the Midwest in 2011 and has since been determined to share the magic and beauty of the music scene with as many as possible. Email [email protected].
Follow:
More
News
Skyline Festival announces 2023 lineup
News
CRSSD reveals lineup for Spring 2023 festival
News
Hangout Music Festival announces 2023 artist lineup
News
Dancefestopia reveals 2023 artist lineup
News
Electric Forest reveals initial 2023 lineup
News
SoCal's Countdown NYE reveals 2022 lineup
Electronic Midwest is primarily an event discovery tool for electronic dance music events in the central U.S.
In addition to covering dance music events and culture in the Midwest and surrounding states, we often cover large music festivals around the world and events in electronic "hub" markets like Las Vegas, Los Angeles/Southern California, Chicago, Detroit, and Miami.
Follow us on Facebook, Twitter, and Instagram.
EDM Calendar
Electronic Midwest
Electronic Vegas
Ann Arbor | Aspen | Atlanta | Austin | Bloomington | Boulder | Chicago | Cincinnati | Cleveland | Columbia | Columbus | Dallas | Denver | Detroit | El Paso | Fayetteville | Grand Rapids | Houston | Indianapolis | Iowa City | Kansas City | Knoxville | Lawrence | Lincoln | Louisville | Madison | Memphis | Milwaukee | Minneapolis | Nashville | New Orleans | Oklahoma City | Omaha | San Antonio | Springfield | St. Louis | Tulsa
Alabama | Arkansas | Colorado | Georgia | Illinois | Indiana | Iowa | Kansas | Kentucky | Louisiana | Michigan | Minnesota | Mississippi | Missouri | Nebraska | Ohio | Oklahoma | South Dakota | Tennessee | Texas | Wisconsin | Southern California | All US Festivals
Electronic Midwest © 2011-2023. All Rights Reserved. Part of the EDMcalendar.com network, a production of Creo Creative.
Comments
comments